Supporting Academic Excellence
The William Hill Kelly Jr. Scholarship at The University of Scranton is awarded to a…
Meet the Kelly Scholars
The University of Scranton selects several current juniors and senior students who have demonstrated financial need. These students must also display exceptional kindness, generosity of spirit, and genuine love of the outdoors. There have been 23 Kelly scholars awarded since 2004. With a market value of $1,200,040, (as of 3/31/21) this scholarship ranks in the top 10% of all endowments at the University. Read more about these exceptional and inspiring individuals.
Eugene Marks '05   Bachelor of Science – Psychology
"Since receiving the Bill Kelly Jr. Memorial Scholarship and graduating from the University of Scranton in 2005, I earned my Master's Degree in Psychology and Educational Specialist Certification in School Psychology from Marywood University in 2009. I am currently employed as a School Psychologist, with a focus on meeting diverse learning and behavioral needs of all students in order to promote academic success. I would like to extend my continued gratitude to the Kelly family for their support and the honor of being a part of the Bill Kelly Jr. Scholarship Foundation that has not only touched the lives of so many people, but also honored the memory an amazing person."
Michelle M. Bochanski '07   Bachelor of Science – Exercise Science
"The Kelly Scholarship has allowed me to create friendships with people who are able to turn tragic events into beautiful memories. I am thankful to know the Kelly family and all associated with the Scholarship, in a true Scranton fashion."
Michelle is an outpatient physical therapist, in training for vestibular rehab. She recently became engaged and plans to be married in 2016.
Joyce M. Frisbie
"I would like to thank the Kelly family as well as the scholarship supporters for allowing me to be one of the recipients of this scholarship and giving me the added opportunity to work toward my educational goals.  The opportunity was greatly appreciated."
Joyce is a Licensed Massage Therapist
Bridget A. Miller '09, G'10   Bachelor of Science – Elementary Education; Master of Science – Reading Education
"Ever since the beginning of high school, when I decided I wanted to become an elementary school teacher, I have had to work very hard in order for that dream to come true.  I feel that I represent the William H. Kelly, Jr. Scholarship well because I am hard working and an outgoing person."
Allison J. Zocco '09   Bachelor of Science – Exercise Science
"Studying abroad and being in the International Service Program were only possible because of the financial support of the Kelly Scholarship.  Thank you is just not enough."
Mary C. Martin '10   Bachelor of Science – Elementary & Special Education
"The Kelly Scholarship allowed me to continue my education at The University of Scranton. It was a blessing for me to receive the scholarship, and also to meet the Kelly family. As a result of my college education, opportunities continue to unfold. I have been able to travel the world and experience many cultures since graduating. I guess you could say that the fruits of the Kelly Scholarship have been spread internationally."
After graduating in 2010, Mary spent a year teaching in Indonesia as a Fulbright scholar. She then spent some time traveling in Southeast Asia, Australia and El Salvador. Mary returned to Philadelphia, to teach ESL, special education and reading at an elementary school for 4 years. In August of this year, Mary began a new adventure and moved to the Cayman Islands, where she will teach special education at the Cayman International School.
Dawn E. Neenan '10   Bachelor of Arts – International Language, Business; Bachelor of Arts – Philosphy
"Since my cubicle at my first job after graduation overlooked the National September 11 Memorial, I thought quite often of Bill and the tremendous honor and responsibility of receiving a scholarship in his name. I have since changed careers and am currently a graduate student studying speech-language pathology at Brooklyn College. In this field, I believe I will be able to reflect Bill's character, particularly his "exceptional kindness" and "generosity of spirit", in the greatest capacity as I strive to promote people's right to communicate while empathizing with their struggles. I am so grateful for Bill's constant inspiration for me to work hard, be kind, love others, and live life to the fullest."
Lauren A. Bottitta '11   Bachelor of Science – Management
"I am so grateful for the amazing opportunities I have been blessed with during my time at Scranton.  Words cannot express my gratitude for the Kelly family's generosity."
Sinead O'Farrelly '11, D'14   Bachelor of Science – Exercise Science; Doctor of Physical Therapy
"As a recipient of the William Kelly Jr scholarship I was always inspired by Bill's generosity of spirit, which has instilled in me a passion for service. I currently work as a Doctor of Physical Therapy at the Medical University of South Carolina located in Charleston, SC. I am grateful each and every day for the blessing bestowed on me by the Kelly Family. The William Kelly Jr. scholarship made Jesuit education a possibility for me. This scholarship & my education from The University of Scranton have allowed me the opportunity to achieve my dreams. I hope one day to be able to give back to others as the Kelly family has done for me & to carry on the empowering spirit of William Kelly Jr. throughout my work & life."
Allison E. Carey '12   Bachelor of Arts – International Language Business
"The William Kelly scholarship helped me to pursue my passions by alleviating the costs of my education, which included studying abroad. I am forever grateful for the support the Kelly family has provided."
Michael J. Wiencek '12   Bachelor of Science – Biology; Bachelor of Science – Philosophy
"The Kelly family's generosity has allowed me to follow my dreams as I helped to open up a new Catholic high school on the developing island of Yap, Micronesia where I am now returning as the assistant principal."
Marissa F. Papula '13   Bachelor of Arts – Theology & Religious Studies
"I owe just about everything to my Jesuit education at The University of Scranton. My opportunities in and beyond the classroom, including my studies of Theology, Counseling and Peace & Justice Studies, my volunteering experiences in Honduras, New Orleans, Ecuador and the greater Scranton area, certainly paved the way for my work and studies here at Boston College. I share my passion for Jesuit education everyday with prospective students through my role in Admissions. That passion would have never been cultivated had it not been for the amazing (and I mean amazing) experience I had at Scranton. I strive to espouse the values of Ignatian spirituality as a woman for and with others in my work, studies, and relationships. I carry Scranton with me each and every day in the fond memories I have, and in the doors my Scranton education continues to open for me. I am overwhelmed with gratitude for all that the Kelly family did to make this possible. I am blessed, humbled, and endlessly thankful."
Marissa is currently working and studying at the Boston College School of Theology and Ministry in Massachusetts. She is enjoying all that Boston has to offer, and planning her 2016 wedding. At BC, she works in the School of Theology and Ministry Admissions office and is earning her MA in Theology and Ministry.
Cassie M. Doheny '14   Bachelor of Arts – Communication; Bachelor of Arts – Theology & Religious Studies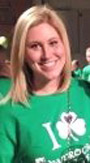 "I am exceptionally grateful to have been a William Kelly Scholarship recipient as it allowed me to continue my education, and ultimately receive my degree, by alleviating some of the financial burden of paying for college."
Cassie resides in Blue Bell, PA and is a Marketing Assistant for WMI Industries in Colmar, PA. She is a member of the Fundraising/Marketing Committee for The Kelly Ann Dolan Memorial Fund, an organization that helps families in the Tri-State area caring for children with serious illnesses, disabilities and injuries, by providing financial assistance for needs not covered by insurance.
Sarah T. Fish '15   Bachelor of Science – Biology

"I realize to achieve my goals I cannot do so without the help and generosity of others. The scholarship is a step in the right direction in terms of achieving what I feel I am called to do which is to serve others through medicine. I cannot thank you enough for this scholarship because it is not just the money that helps, it is knowing that someone is believing in me. Thank you for these opportunities."
Constance T. Ricciardi '15   Bachelor of Science – Counseling & Human Services
"I am honored to be a recipient of the William H. Kelly '93 Scholarship and I would like to give my thanks to the Kelly family. I could not be more grateful for this opportunity and I will do the best of my ability to live a life of love and generosity, just as Bill did. Thank you."
Magdalene E. McGlynn   College of Arts & Sciences, majoring in Information Science
"It is an honor to receive a scholarship with such meaning behind it. I am grateful for the opportunity to be a representation of such a scholarship."
Samantha J. Zilla   Panuska College of Professional Studies, majoring in Occupational Therapy
"I am grateful for this scholarship for helping me be able to achieve my goals of being able to attend my dream university while studying something I am passionate about."
Anthony Faso Occupational Therapy Major, Walden, NY
"I am very grateful to be awarded this scholarship and thankful for the scholarship sponsors and Kelly family's aid in my educational costs. With this generous scholarship, I am able to continue to learn what I love and be where I love — at The University of Scranton."
Tristan Flood Biochemistry Major, Gouldsboro, PA
"I would like to thank the Kelly family for the scholarship from their golf tournament which will help me better focus and pursue my aspirations to become a doctor."